Only £60 Per session
Funding & support available for low income earners
Once you have booked your session, you will receive an email confirmation, David will then contact you to confirm the date and time.
Please ensure you have read our cancellation policy prior to booking a course.
Bury Wellness Centre
13 Stand Lane
Radcliffe
Bury
M26 1NW
Near Radcliffe Library and the Lockeeper
Manchester Wellness Centre's
64 bridge Street
Manchester City Centre
M3 3BN
Near the courts
And Also
Milton Hall
3rd Floor
244 Deansgate
Manchester
M3 4BQ
What our Clients say:
David, I'm getting responses for work already, I've not done half of the things that we discussed, but it's already piling up.Thank you so much. Watch this space.
SP. Radcliffe
Thankyou so much for all your help David, We are both so appreciative of the help and support you have given us.
CS & TS Bolton
I have not felt like this since I was a teenager David. Thankyou
GA. Whitefield
Just wanted to say thanks for everything, feel much better now.

NW. Bury
I feel so empowered about everything and cant believe after 3 weeks after what happened I could feel like this.
EL. Bury
Thankyou so much for giving me my self esteem back and making me better about myself.
AS. Radcliffe
You have given me my life back - Couldnt have done it without you. I have done the speech and used everything you told me. Many Thanks
AJ. Prestwich
I will always recommend you to anyone who needs help. I know what you can do and thankyou so much.
DR. Brandlesholme
Feel free to contact us if you require any further information
Testimonial from Jason Jarrett
On the surface many people thought I had a fabulous career and lifestyle being a professional footballer, but behind closed doors I was secretly suffering with the pressures of my footballing and everyday life . This led to frustration, anxiety ,heartache and ultimately depression. Living with this had a enormous affect on my football ability as I wasn't able to perform as expected. I'd tried to speak to various Therapists and experts to try and help but was never able to find a connection or open up properly . That is I until I met David Wilson . I instantly felt at ease and very quickly developed the relationship to open up and tell him about my problems. David proceeded to give me the tools needed to rid me of the issues and problems which had plagued me through much of my playing career and personal life.
I can say without question David Wilson has changed my life around and I can now look to the future with hope, excitement and promise.
Jason left high school in 1995 and was signed on as a apprentice for Blackpool at the age of 16. He then spent the next 3 years playing for Blackpool before moving on briefly to Wrexham.
Jason was then approached by his hometown club of Bury FC who he gladly signed for and spent nearly 2 years were he really started to make a name for himself . Eventually a much bigger club came knocking and in 2002 he signed for Wigan.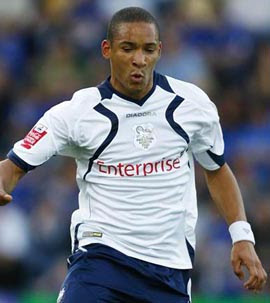 Jason spent nearly three and a half years there which was very successful winning in league 1, eventually winning promotion to the premier league . After leaving Wigan he then had spells at Norwich, Preston, Leicester, Brighton and Oldham